From Farm to Table
At Anggrek Putih / Authentic Lombok, we offer a half-day Indonesian cooking class combined with a vegetable garden tour.
Immerse yourself in the diverse flavors of Indonesian cuisine, from the spicy local Lombok dishes featuring hot chilies and herbs, to the sweet Javanese meals made with fresh coconut milk, palm sugar, and peanuts. Explore the unique tastes and zesty tang of lime, lemongrass, and tamarind.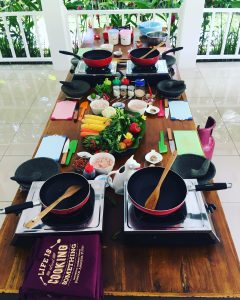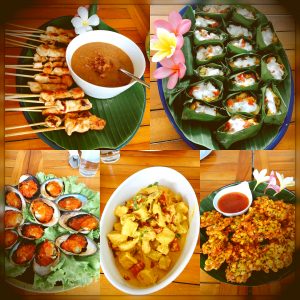 Our cooking classes are a fun, educational, and enjoyable way to learn about Indonesian food and culture for the whole family.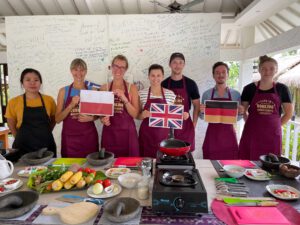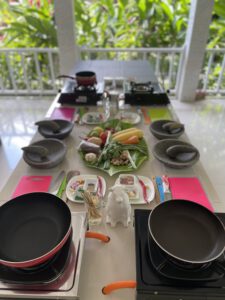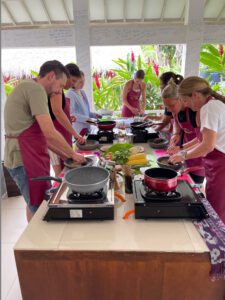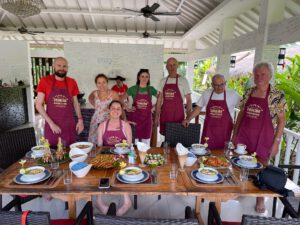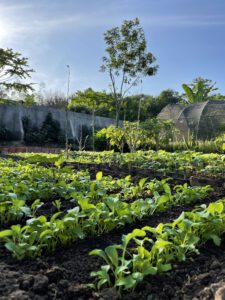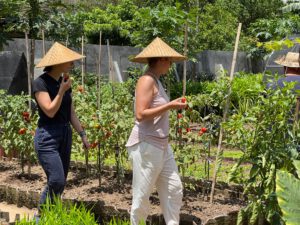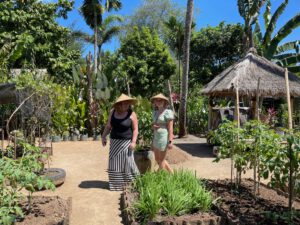 Each class covers a minimum of 7-10 dishes, which vary daily based on food preferences and complementary combinations.
Sample dishes include:
Sate Ayam (Chicken Satay)
Perkedel Jagung (Corn Fritters)
Bakwan Sayur (Vegetable Fritters)
Lumpia (Spring Rolls)
Pepes Ikan (Fish in Banana Leaf)
Lombok Kari (Curry Chicken, Fish or Veggies)
Lombok Soto Ayam (Chicken Soto)
Mie/Nasi Goreng (Fried Rice/Noodle)
Gado-gado (Vegetables with peanut sauce)
Ketoprak (Rice Noodle with vegetable in peanut sauce)
Cumi/Udang Balado (Spicy Squid/Shrimp)
Cumi/Udang Asam Manis (Sweet & Sour Squid/Shrimp)
Rendang (Beef Rendang)
Ayam Taliwang (Chicken Taliwang)
Garang Asem (Sour & Spicy Chicken with coconut sauce wrapped in banana leaf)
Dadar Gulung (Green Rolled Pancake)
Cendol/Dawet (Pandan Jelly with coconut milk)
Kue Bugis Mandi (Glutinous Rice Ball with coconut cream)
Bubur Ketan Hitam (Black Rice Pudding)
Anggrek Putih Lombok Cooking Class Schedule:
Time: 13:00 to 17:00 PM (every Monday to Sunday)
Pickup time: 12:30 to 12:45 PM
Cooking Class Package
Our cooking class package offers a comprehensive experience that includes:
Farm Tour: Embark on an up-close exploration of organic vegetables, spices, and herbs at Anggrek Putih Garden, gaining insights into the sourcing of our ingredients.
Welcome Drink and Appetizer: Kickstart your culinary adventure with a refreshing drink and a tantalizing appetizer.
Meal: Delight in a wholesome meal featuring the dishes you cooked during the class, savoring the fruits of your labor.
Dessert/Fruit: Indulge your sweet tooth with a delectable dessert or fresh fruit.
Drinking Water: Stay hydrated throughout the class with complimentary drinking water.
Coffee or Tea: Conclude your experience with a cup of aromatic coffee or tea.
Recipes & Photo Session: Receive a collection of recipes and capture the memories of your cooking journey through a photo session. These will be sent to you via email or WhatsApp after the class.
Price: IDR 400,000 per person (includes free transportation to and from your hotel in the Senggigi, Mataram, Batu Layar, Kerandangan, and Mangsit area)
Cooking Class & Tour Package for Kuta Area
If you are staying in the Kuta area, we offer a special cooking class and tour package designed to enrich your experience:
Free Transport: Enjoy complimentary transport to and from your hotel (minimum 2 persons).
Short Tour: Immerse yourself in the local culture with a short tour to Pottery Village, Weaving Village, and Sasak Village.
Pickup Time: 10:00 AM
Price : IDR 650,000 per person.
We gladly accept Visa or MasterCard payments, with a 3% additional charge for bank administrative fees.
Join us for an unforgettable culinary experience and discover the rich flavors of Indonesian cuisine. Reserve your spot today!
Contact for Reservation
To reserve your spot or for any inquiries, please reach out to us:
** Please inform us of any vegetarian preferences or allergies.